INSIDE THE MARK
Stories of the cultivated life
---
Posted on June 4, 2021
Father's Day at The Mark
Purchase The Mark Gift Card for the father or father figure in your life (now through June 20th) and receive The Mark's plush bathrobe, perfect for Dad!
Contact LeShop@TheMarkHotel.com with any questions.
Posted on April 27, 2021
We're Sailibrating! The Mark Sailboat is Back!
Now in its fourth year, The Mark Hotel's ultra-luxury sailboat experience makes its highly anticipated return to the high seas. The 70-foot Herreshoff sailboat, one of the last in existence, can accommodate up to 25 guests and is available for private charter to The Mark's hotel guests, friends and neighbors starting May 15, 2021. This one-of-a-kind luxury nautical experience sets sail from Tribeca's North Cove Marina for a two-hour journey southward into the iconic New York Harbor with cocktails and a bespoke menu prepared by Chef Jean-Georges Vongerichten. For younger sailors, Chef has created a Children's menu to accommodate even the most discerning seafarer.
New this year, for those looking to take the plunge and tie the knot, The Mark's Wedding Officiant can be brought on board for an unforgettable, open air, ceremony on the high seas.
Please contact Sales@TheMarkHotel.com to inquire about a sail.
Posted on January 21, 2021
The Mark's Fool Proof Valentine's Day Menu 2021
Please contact Reservations@TheMarkHotel.com or call 212-744-4300 to add any of the above items to your reservation.
Posted on August 5, 2020
Color Your Day!
For the adults who miss The Mark Hotel and for the kids who are bored at home…
There are more where these came from. The Colorful Mark and more goodies are available for purchase on Le Shop.
Posted on July 1, 2020
Your room is ready for check-in!
Posted on June 29, 2020
20 More Reasons to Stay at The Mark in 2020!
Posted on March 4, 2020
The Mark Wellness Menu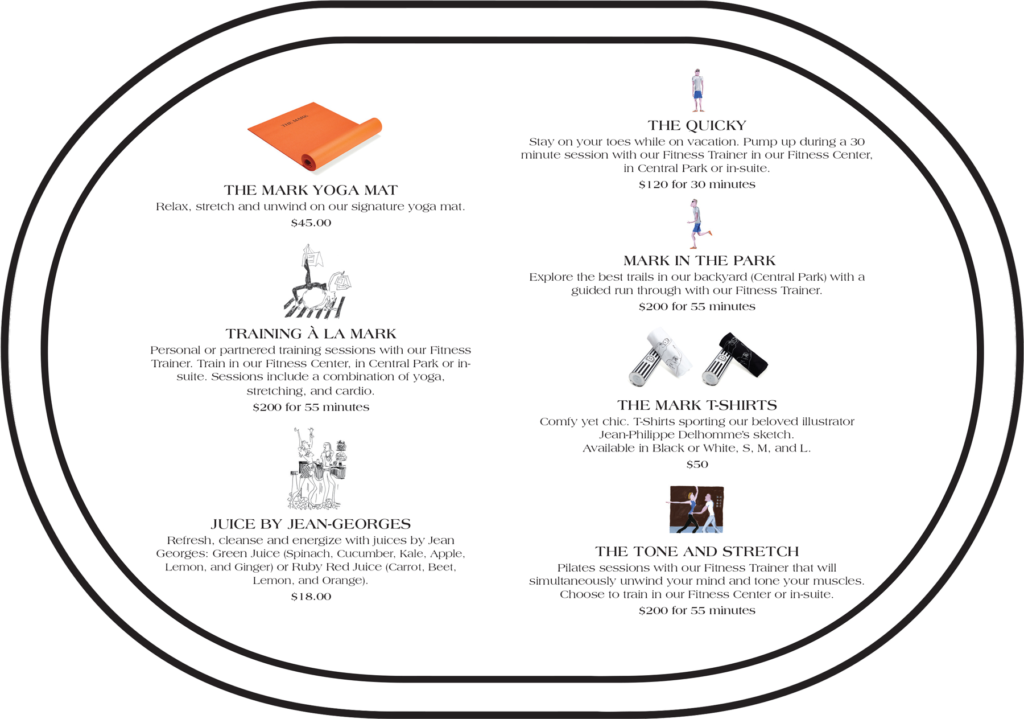 Posted on January 20, 2020
The Mark's Fool Proof Valentine's Day Menu
`
Please contact Concierge@TheMarkHotel.com or call 212-606-3120 to add any of the above items to your reservation.
Posted on November 14, 2019
The Mark Holiday Penthouse Spectacular
Get into the holiday spirit in The Mark Penthouse this Christmas with all the festive amenities we have to offer, featuring:
A private skating rink atop The Mark Penthouse's Terrace overlooking Central Park and The Manhattan Skyline. Skate with family and friends while sipping hot chocolate under the stars and the moon.
A four-course holiday feast, specially created by The Mark Restaurant's Michelin-Star Chef, Jean Georges Vongerichten, and served in The Penthouse's Dining Room. Guests can indulge in Cristal Champagne and Imperial Gold Osetra Caviar while enjoying their favorite holiday specials.
A Juilliard-trained pianist to serenade the guests around The Penthouse's grand piano, for a sing along with family and friends
Family photographs shot by world-renowned fashion Photographer Alexei Hay, for everlasting keepsakes. The choice of a private rendition of the classic holiday ballet, The Nutcracker, in The Penthouse's Great Room or in a VIP box at Lincoln Center.
Bergdorf Goodman all to yourself! Your very own after-hours, private shopping spree at Bergdorf Goodman.
A Holiday Play Room from FAO Schwartz. Kids (or parents who want to be kids again) will have a room full of toys and games to play with and take home with them, with an optional private shopping experience at FAO Schwarz.
A private screening by the fire of a holiday classic or an unreleased Hollywood blockbuster, complete with Jean-Georges Vongerichten popcorn, candy, and s'mores.
A dedicated team that includes a driver, butler, nanny & massage therapist, with Santa upon request.
A menu of luxurious services provided by French beauty entrepreneur Frédéric Fekkai's Salon, located on the second floor of The Mark, including hair, makeup, manicure, pedicure, and more.
Tailored personal fitness classes with The Mark's personal trainer extraordinaire, Daniel Flores, in the privacy of The Penthouse or in The Mark's Fitness Center.
Airport transportation to and from The Mark, by car or helicopter.
To inquire about availability and rates, please contact Sales@TheMarkHotel.com or call 212-744-4300.
Posted on September 27, 2019
The Mark Fall Foliage Sail
The Mark's Fall Foliage Sail is designed around the magnificent changing of leaves along The Hudson River. Guests can sail up the river for stunning views of the ember and orange foliage. The Mark will now transport its guests up the river to take full advantage of the ember and orange foliage that the area is famous for.
The Mark Sailboat's Fall Foliage Package will only be available for a limited time; from the 1st of October through October 19th for 3-hour sails, spanning midday (11:30am – 2:30pm) and sunset (3:30pm – 6:30pm). This exclusive package comes complete with custom Mark-branded cashmere throws, as well as a fall-inspired menu by Jean-Georges.
Please contact Concierge at 212-606-3120 or Concierge@TheMarkHotel.com to inquire.
Posted on June 13, 2019
Summer 2019 Amenities for The Mark Penthouse
Bask in unparalleled luxury this summer with these complimentary amenities, available to any guest at The Mark Penthouse.
Our Summer 2019 add-ons for The Mark Penthouse include:
• 24-hour check-in;
• Round-trip airport transfers via car or helicopter;
• Dedicated butler service (includes packing and unpacking);
• A chauffeured car of your choice for 12 hours daily;
• A two-hour cruise around New York Harbor on The Mark's beautiful sailboat, with bites by Jean-Georges.
To inquire, call (866) 744-4300 or email sales@themarkhotel.com.
Posted on May 7, 2019
Camp: Notes on Fashion
Revel in camp's garish exuberance and relive the most iconic looks from 2019's Met Gala with these shots from The Mark's red carpet.
Above: Jeremy Scott and Gwen Stefani
Smokey the Bear, our prank on the paparazzi
Kanye West, Kim Kardashian West
Kendall Jenner, Kylie Jenner, wearing Versace
Omari Hardwick, Dapper Dan, 21 Savage
Emma Stone, Nicolas Ghesquière, wearing Louis Vuitton
Salma Hayek
Jennifer Connelly
Tracee Ellis Ross
Tessa Thompson, wearing CHANEL
Jared Leto
Janelle Monáe
Elle Fanning
Dev Hynes
Anna Wintour
Anderson.Paak
Saoirse Ronan
Lupita Nyong'o
Joe Jonas, Sophie Turner
Jordan Roth
Florence Welch
Bella Hadid
Irina Shayk
Cara Delevingne
Kacey Musgraves
Can't get enough of the Met Gala. Check out our photos from 2018's "Heavenly Bodies" red carpet.
Posted on April 1, 2019
Heavenly Bodies: Looking Back on 2018's Met Gala
Can't wait for this year's Met Gala? Here are some of our favorite looks from last year's red carpet at The Mark to tide you over.
Above: Bradley Cooper & Irina Shayk
Janelle Monae
Zendaya
Travis Scott & Kylie Jenner
Tracee Ellis Ross
Nick Jonas
Naomi Watts & Michael Kors
Sarah Paulson
Mary J. Blige
Kim Kardashian
Jordan Roth
Issa Rae
Greta Gerwig
Gisele Bundchen & Tom Brady
Gigi Hadid
Emily Ratajkowski
Emilia Clarke
Darren Criss
Daniel Kaluuya
Anna Wintour
Find us on Instagram on Monday, May 6 to watch The Mark's pre-Met Gala red carpet coverage live. This year's theme: "Camp: Notes on Fashion."
Posted on February 5, 2019
An Aphrodisiac-Infused Prix-Fixe Menu for Valentine's Day
Romance is in the air… and in your suite.
The Mark Hotel is offering a Valentine's Special Menu of love potion cocktails paired with a prix-fixe assortment of natural aphrodisiac bites prepared by Michelin-star Chef Jean-Georges Vongerichten.
Optional add-ons include a Sexual Satisfaction Grade Card, a pair of Agent Provocateur Panties, and The Mark Eye Mask.
Also, start the mood with champagne upon arrival and receive a complimentary breakfast each morning of your stay.
Book Dates:
January 22, 2019 to February 14, 2019
Stay Dates:
February 10, 2019 through February 18, 2019
This Prix-Fixe Menu for two includes two aphrodisiac-infused cocktails, a dozen oysters, your choice of Slow-Cooked Salmon with mashed potatoes, bok choy, and ginger-chili vinaigrette, or Parmesan-Crusted Organic Chicken with artichoke and lemon-basil butter, and a Valentine's Day cake for two.
Posted on September 20, 2018
A Tour of The Mark Penthouse
Welcome to The Mark Penthouse, the largest penthouse suite in The United States. Spanning 10,000 square feet with an additional 2,500 square feet of terrace, this duplex suite truly is a castle in the sky. It offers absolute privacy and ultimate luxury with 5 bedrooms, 7 bathrooms, 4 fireplaces, and a living room under the landmarked copper roof with 26′ ceilings.
Please, take the tour, and see for yourself the sophistication of Jacques Grange's impeccable design.  Take a peek at the suite's unprecedented amenities, which include 24/7 in-suite dining by Michelin-star chef Jean-Georges Vongerichten and 24/7 access to Bergdorf Goodman (transportation via The Mark Pedicab).  Indulge in bits and pieces of the iconic Mark experience.
Posted on September 4, 2018
Fashion Week Fuel by Jean-Georges
"The lunchbox is said to be the hottest accessory this season."
Refuel during Fashion Week with our Fashion Week Fuel Box, prepared by our Michelin-star chef, Jean-Georges Vongerichten.
Each Fuel Box includes a vegetarian sandwich, fresh fruit and sparkling water. It's the perfect light lunch on-the-go for your commute downtown.
Boxes will be available at The Mark Bar daily during Fashion Week from 11:00 AM to 3:00 PM for $25.
Bon appétit!
Posted on April 13, 2018
Met at The Mark
Posted on October 2, 2017
Fall Picnic in The Park by Jean-Georges
Posted on October 2, 2017
The Mark Sailboat
This summer, we set sail on The Hudson's high seas with our very own Mark Sailboat. Guests enjoyed views of the New York skyline and Lady Liberty while sipping on champagne and munching on bites by Jean-Georges. We hope to see you on board next Summer!
Posted on February 14, 2017
The Mark's Woof Woof Kit
In addition to pet perks such as a special menu by Jean-Georges and custom designed dog beds, pampered pets can now receive The Mark's new Woof Woof Kit.
The Mark Woof Woof Kit is available for purchase at $95 each and includes a custom collar, leash, portable water bowl, and waste bags.
Posted on December 6, 2016
Sled in Style at The Mark
Sled in style at Cedar Hill in Central Park with The Mark's custom crafted sleds.
Posted on November 30, 2016
Toast The New Year at The Mark
Bid adieu to 2016 at The Mark – receive Champagne and signature chocolate truffles upon arrival, and a breakfast in bed wake up call by Jean-Georges on New Year's Day. Join us for dinner at The Mark Restaurant by Jean-Georges for a special $498 five-course New Year's Eve menu.
Posted on November 18, 2016
The Mark Flower Cart
Offering a seasonal assortment of bouquets and preserved roses, The Mark Floral Cart encourages to keep romance alive during travel. Whether enchanting a significant other, or brightening a suite with a sense of warmth and passion, The Mark Floral Cart is sure to set love in the air in New York City.
Posted on September 15, 2016
The Mark Pet Menu by Jean-Georges
Introducing The Mark's new pet menu by Jean-Georges, offering a selection of dishes to please the most discerning dog palates.
MAIN COURSES
K-9 Cuisine
Chopped Chicken with Steamed Market Carrots & Parsley
Pup Protein
Ground Beef with Market Peas & String Beans
A Healthy Bite
Salmon with Cucumber, Apple & Spinach Salad
Svelte Pup
Steamed Rice with Hard Boiled Eggs & Mixed Market Vegetables
DESSERTS
Matin De Toutous
Oatmeal with Market Berries (Blackberry, Blueberry and Raspberries)
The Cheese Gourmand
Cottage Cheese with Pineapple & Banana, Organic Honey
Posted on September 12, 2016
The Mark's Fall Foliage Pedicab Tour
Warm up with Jean-Georges' cinnamon donuts and spiced cider as you experience a chauffered ride through the seasonal highlights of Autumn in Central Park.
Posted on June 17, 2016
The Mark Summer Cocktail Menu
SUMMER COCKTAIL MENU
Midnight in Paris
Hugo
Casablanca
La Vie En Rose
The Mark Bellini
Posted on June 8, 2016
The Mark Haute Dog Stand
The seasonal hot dog stand, lavishly adorned with the iconic Jacques Grange black-and-white stripes, is serving Jean-Georges' gourmet organic chicken and grass fed beef hot dogs exclusively for guests of the hotel and neighborhood friends. Hot dogs are $6 each and are served with special Kimchi relish and your favorite condiments – available all season long.
Posted on December 7, 2015
Toast the New Year at The Mark
Stay at The Mark and receive Champagne and signature chocolate truffles upon arrival, brunch by Jean-Georges and tickets to The Mark Restaurant's New Years Eve Gala – featuring a five-course tasting menu, French Jazz band and midnight toast.
Posted on November 23, 2015
'Tis The Season To Stay At The Mark
Celebrating the holidays in extraordinary style, The Mark Hotel together with partners including Chef Jean-Georges, Ladurée and premier fashion houses along Madison Avenue to unveil an unprecedented holiday program for guests and neighborhood friends. Launching the week of Thanksgiving and available through the festive season, we are delighted to share a sneak peek with you:
The Mark Cocoa Kiosk by Ladurée – The Mark announces a devilishly delicious, new holiday collaboration with iconic French patisserie, Ladurée. Complimentary to hotel guests the week of Christmas through the New Year, and available to neighborhood friends for $6.50 a cup throughout the festive season, The Mark Cocoa Kiosk by Ladurée will serve signature steaming hot Ladurée Chocolat chaud and freshly baked cookies from the enchanted kiosk. Expect a cocoa experience so unabashedly rich, indulgently thick, delightfully smooth, and the kind of sensation that silences lobby chatter while you sip and savor. Launching Thanksgiving weekend and available through the holidays.
Custom Tree Trimming Parties – For the month of December, guests at The Mark Can enjoy a festive setting in-room to rival the iconic Holiday window displays at Bergdorf Goodman – the most elegant seven-foot-tall evergreens can be arranged fully decorated upon arrival to a guests' exact specifications. Families can even opt to trim their own beautiful tree with a choice of signature decorations presented in-room along with a hot cocoa welcome amenity for busy trimmers!
Jean-Georges Cookie Baking Kits – Nothing says 'festive season' like the aroma of freshly-baked cookies. Acclaimed Chef Jean-Georges has created adorable cooking baking kits exclusive for little monsieurs and mademoiselles at The Mark, available as an add-on with select room types. The kit contains pre-cut dough in festive shapes ready to be baked in-suite (no fuss or mess), signature frosting, sprinkles and many other deliciously sweet garnishes to decorate. Budding little patissiers will also receive a chic signature chef's apron and charming chef's hat in the kit.
 
Holiday Shopping Pass – Guests of The Mark who book this chic package will receive an exclusive Holiday Shopping Pass to Madison Avenue's premier designer boutiques. The pass allows guests to receive a personalized seasonal experience at participating stores to shop the holiday collections; gain insider access to expert personal stylists; take a complimentary ride on "The Mark's Holiday Express" Pedicabs; and even enjoy a few "gifts" along the way. This offer also includes a special holiday welcome amenity and breakfast each day of stay.
New York's most boldly lavish hotel will be the heart of the holidays in Manhattan this festive season.
Posted on August 24, 2015
Get Front Row Ready for Fashion Week at The Mark
The menu of services includes:
Frederic Fekkai Salon at The Mark for pre-show blowouts
The Mark Pedicabs ferrying fashionista guests to and from the hotel for the ultimate "street style" arrival moment (service is complimentary for guests)
Bergdorf Goodman Stylists providing guests with exclusive access to a host of a la cart Bergdorf Goodman services including personal styling and shopping appointments with one of Bergdorf's stylists. Guests of The Mark Hotel also have exclusive, 24/7 access to shop at the iconic department store
Yoga Sessions with Irina Ovsiannikov, renowned yoga Guru, to prep and de-stress before and after the week's hectic show schedule
Personal Training Sessions at The Mark's Fitness Center with in-house personal trainer, Dan Flores
On-Call Nutritionist Safia Morsly, tailoring Fashion Week energy boosting eating programs to get on-the-go fashionistas through the week without restrictive eating
Premier Healthy Jean-Georges Dining options at The Mark including new gluten-free, black truffle pizza to-go and Jean-Georges' signature blended juices: Green, Ruby Red and Coconut
New York's most boldly lavish hotel will be the ultimate base camp for those in the know and the front row this New York Fashion Week.
Posted on August 17, 2015
The Mark's Ice Cream Stand
Polished pedestrians craving a treat after a morning spent gallery hopping and boutique shopping can indulge in chocolate or vanilla ice cream bars, served at The Mark's custom ice cream stand.
Posted on August 4, 2015
The Mark Bergdorf Goodman Express
For guests of The Mark, the complimentary Bergdorf Goodman Express pedicab service ferries fashionistas to and from the iconic department store.
Your very own chic chauffeur will even standby to pedal all your Bergdorf Goodman purchases directly to The Mark.
Posted on August 4, 2015
Jean-Georges Gourmet Pizza To Go!
Available to go at The Mark Restaurant or through In-room Dining:
Black Truffle with Fontina Cheese
Mozzarella, Tomato and Basil
Lobster and Three Cheese
Russ & Daughter's Smoked Salmon on "Everything Crust"
Barry's Wine Raw Tuna and Wasabi
Posted on July 15, 2015
Suite Slumber Party @ The Mark
Experience The Mark's Slumber Party suite special, perfect for families looking to lodge with their little ones. Stay in a suite and receive a customized tent set up for tiny guests, an in-room family movie, chocolate milk & cookies and breakfast each day of your stay. For more information Equipoise (Boldenone Undecylenate), visit our special offers page.
Posted on January 28, 2015
The Mark Pedicabs
Explore the neighborhood in style with The Mark Pedicabs, available exclusively for guests of the hotel. Your chauffeured ride to Manhattan's premier shops, museums and galleries.
Posted on January 28, 2015
Relax and Rejuvenate at The Mark
Beat the winter blues with The Mark's new Health and Fitness Kit – featuring a custom yoga mat with matching ear buds, an Electro-Stim Lifting Facial Treatment + Oxygen Infusion Blast from renowned Esthetician Sueane Mun, personal training session and $100 Food and Beverage Credit.
Posted on November 26, 2014
Cocoa Kiosk @ The Mark
This season, The Mark is serving up Jean-Georges' signature hot chocolate, an assortment of seasonal accompaniments and Glazed Gingerbread Cookies from our very own customized cocoa kiosk – offering the perfect treat in between shopping and museum hopping!
Posted on October 27, 2014
Prepping for the NYC Marathon at The Mark
As the city gears up for this year's marathon, some very lucky runners (and spectators) will experience the race as guests of The Mark. For those selecting us as home base, our "NYC Marathon Survival Kit" is a tailor-made package for the modern marathoner. Address your last minute muscle trepidations and get expert endurance advice during your private training session with Dan Flores, our fêted in-house fitness guru. Navigate those final warmup runs using the compact Central Park Runner's Guide while new custom Mark ear buds pump your favorite motivational tunes. Stay fueled with the energy gels and chews found amongst your marathon welcome gifts and rehydrate with premium pure coconut water. Even Jean-Georges has joined your support team with a customized in-room dining menu specifically designed for our marathon participants. At the conclusion of the race, as you woozily yet voraciously devour that post-run banana and it feels as though you've no energy left to go on in this world – good news; the finish line is literally in our backyard. Just a short walk brings you right back to those Quagliotti sheets you've been dreaming of returning to since mile twenty. Our friends at Town & Country would seem to agree: read their article here.
Posted on September 12, 2014
Vanity Fair's Best Dressed List at The Mark
Mario Testino took this year's Best Dressed List to the streets of London and New York City, combining personal style with chic city flair. Full of designer labels and internationally recognized trendsetters, the shoot featured 16 members of the International Best Dressed List: Margherita Missoni, Neil Patrick Harris, Grace Coddington, Victor Cruz, and Julia Restoin-Roitfeld to name a few. Headquartered at The Mark Hotel, Testino used nearby Central Park and the tree-lined avenues of uptown as a scenic backdrop for the fashion idols to strut their style in the streets of Manhattan.
Watch the exclusive behind the scenes video here.
Posted on July 15, 2013
SOME/THINGS Magazine at The Mark
SOME/THINGS photographer, Matteo Carcelli recently visited The Mark, here is an installment of his beautiful images of our hotel.
Read more here.
PHOTOGRAPHY BY MATTEO CARCELLI, SOME/THINGS AGENCY
Posted on July 9, 2013
Celebrate Bastille Day at The Mark
With so many French influencers at The Mark, we invite guests to celebrate Bastille Day (July 14) with our extraordinary group of talents. Relax in one of our a Jacques Grange designed rooms or have your hair coiffed at our Frederic Fekkai salon. Complete your stay in The Mark Restaurant by Jean-Georges with a classic cocktail and specially crafted dish by the preeminent Chef himself. The Mark Bar will be including French 75 cocktails on the menu for Bastille Day only. The French 75 is a classic cocktail created in 1915 at the New York Bar in Paris; made with gin, Champagne, lemon juice, and sugar. While the Mark Restaurant will serve Crepes Suzette with market strawberries and a sauce of caramelized sugar, butter, orange juice, and Grand Marnier. We guarantee your stay will be très magnifique!
Posted on June 6, 2013
Assouline at The Mark
The Mark is proud to announce the opening of Assouline, an exciting new boutique on the ground floor of the hotel. Assouline, the internationally renowned publisher of luxury lifestyle titles and proud recipient of the 2012 Accessories Council Influencer Award, has opened its smallest luxury boutique in the world. The result: a shopping experience that is as innovative as it is elegant.
Designed to evoke a luxurious wrapped gift, the new boutique will stock Assouline's most in-demand titles, from the Ultimate Collection (hand-crafted volumes ranging from $250 to $7000), to a selection of Assouline Vintage titles curated by Prosper Assouline, to best-sellers and new titles like Fashion Jewelry and In The Spirit of the Hamptons. The 100-square-foot space will provide the same impeccable service that has become a hallmark of all Assouline boutiques, providing our guests with a shopping experience that is intimate, personal, exclusive, and truly one of a kind.