The Mark is undoubtedly inspired by the roaring '20s with our Neo-Deco style. So when Bergdorf Goodman revealed that their Holiday Windows were inspired by the lavish performances of Ziegfeld Follies and Vaudeville revues, we jumped at the opportunity to take a look. Bergdorf's have recreated the glory and excess of the Jazz Age, think diamonds, champagne and shimmying showgirls. Designed by Bergdorf Goodman's Senior Director of Visual Presentation, David Hoey, the windows took a year to produce and are on display until January 3, 2013. This beautiful display of both creative ingenuity and designer wears is not to be missed.
Act I: Tuning Up – Inspired by "Some Like It Hot" and the all-girl orchestras of the 1920s, the first window of the display features dresses by Marc Jacobs, Phillip Lim and many more. The mannequins have been set from an aerial perspective, against an Art-Deco black and white checkered floor.
Act II: Rhapsody in Feathers – Literally created out of millions of feathers, this dramatic window includes six white feathered birds and peacocks. Inspired by Hollywood burlesque, with Art-Deco chandeliers and large feather fans, the elegant mannequin wears a short fringed dress by Marchesa.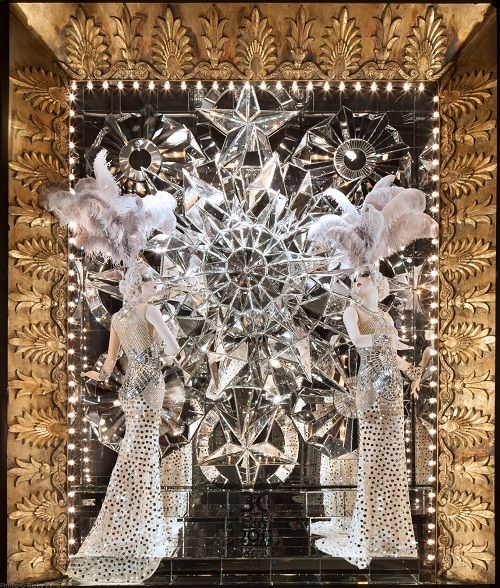 Act V: The Mirror Kaleidoscope – The Grand Finale of the Bergdorf Goodman windows, twin showgirls pose while a mirror star rotates behind them. This display features thousands of beveled mirrors creating a kaleidoscopic effect. The mannequins wear specially commissioned gowns by Naeem Khan.
The various BG Follie Acts continue from 57th Street, 58th Street and across Fifth Avenue to the front of the Bergdorf Goodman Men's Store. For more information and to view the full 2012 BG Follies display head to:  http://blog.bergdorfgoodman.com/